Follow these steps to access Cabinet for your mobile device.
Step One: Go to the App Store or Google Play and search for the "WebDav Nav" application. Install it.
Step Two: Once you have installed the application, launch it by clicking on the icon.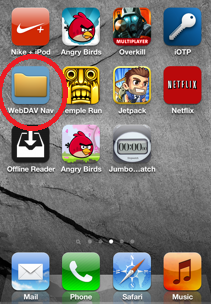 Step Three: Once WebDav Nav is open, click the + sign at the top right of the screen. Enter the following details:
Server URL: https://mirror.psmail.net/cabinet/user@psmail.net
Username: Your PSMail email address
Password: Your PSMail password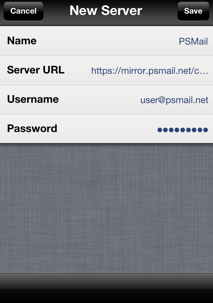 You should now see your new server settings as below: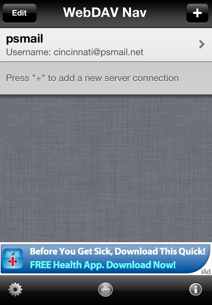 Step Five: Tap on the PSMail button. You should now see the files that are in your cabinet repository. You can use the buttons at the bottom of the screen to manage these files and to upload files from your camera and video/audio library.