Keeping Online Shopping Safe – Things You Might Not Think Of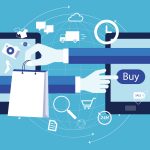 The holiday season often brings out news reports and articles highlighting the increased use of the internet for Christmas shopping and how many billions of dollars will be spent online verses at brick and mortar stores. If you're like me, however, online shopping is not just a November/December phenomenon. Online shopping has become a regular part of life.
While there are certainly some security benefits to online shopping – you probably won't run into any pickpockets in your living room – the internet, as always, introduces some risks to the process of shopping. Some of the best security practices to help minimize these risks are well known: don't open email from unknown senders, never click on a link that doesn't come from a trusted source, use strong passwords, etc. In this article, however, we want to highlight some security suggestions that you may not have heard a thousand times. This is not to minimize the most common advice (it is frequently repeated for good reason) but to provide some additional tips for further strengthening your security.
So, when shopping online…
#1 – Pay with your credit card as opposed to your debit card. Credit cards typically have $0 liability if someone manages to get your card information and go on an unauthorized spending spree. As long as you report the incident in a reasonable amount of time, most card companies will not hold you accountable for fraudulent charges. This is not always the case with debit cards.
#2 – If your credit card company or your bank provides services Virtual Credit Cards (Learn more) with limits in spending, use these on websites where you will make either one time purchase or a rare purchase. Virtual Credit Cards can be cumbersome to use for regular or subscription purchases, you can consider using services such as Apple Pay, Google Wallet if possible in these cases as they provide more security and less liability to you.
#3 – Take note of an online retailer's website security. Before making a purchase, check the URL field in your browser. Is there a little green lock icon? Does the website start with "https" (as opposed to just "http")? If so, then the website has privacy protection and your information will be encrypted. This is important to know when you are typing in private information like your address, phone number, and credit card number.
#4 – Be extremely cautious when a deal appears too good to be true. Such deals often are, and instead of saving money you may end up "taking the bait" and giving a false merchant just what they wanted: your personal and financial information. Do some research before you buy to be sure that the merchant is legitimate.
#5 – Keep tabs on your financial accounts. If someone should get ahold of your credit card information, the sooner you know about it the better. Do a quick online check of your statement on a weekly (or even daily) basis to look for charges that you don't recognize. If you find something that looks suspicious, contact your credit card company immediately to lock the card and resolve the issue.
#6 – Avoid online shopping on public wifi networks. Ok, so maybe you have heard this one frequently before, but it bears repeating, especially around the holidays. An increasing number of businesses offer free wifi to their customers. Hackers, however, also have access to these networks and can eavesdrop on those who are sharing this public wifi space. Since online shopping inevitably involves entering information that you wouldn't want these hackers to see, it's best to purchase from the safety of your home. Of course, one way to mitigate this problem is by using a VPN (like PSMail's PSVPN service) which creates an encrypted, secure connection even when you're using a public network.
Happy holidays and happy shopping!