Consulting Services offered by PSMail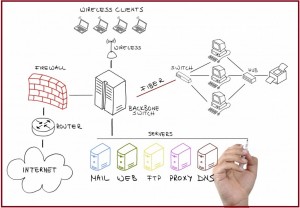 PSMail through parent company Argonaut Quality Systems offers consulting in integrated information architecture – both network and security solutions – for the global market. PSMail's consulting services include such varied areas as enterprise architecture, service oriented solutions architecture, network transformation, security auditing, email outsourcing, security consulting, and cloud migration.
Our experts (certified professionals with accredited certifications from Cisco, Juniper, Microsoft, Sun, Redhat, and vendor neutral SANS / GIAC) will be happy to tackle your most difficult network and security related challenges. Some of our past work includes:
Secure user and service management portal for ISP
Migration of large ISP email from UNIX to Hosted Exchange
Implementation of ubiquitous wireless access for a college campus
Integration of cloud based services to SAP enterprise portal
Email transition from Exchange to Google apps enterprise email
Migration from Oracle Enterprise to cloud databases (Amazon and Google)
Mobile integration via enterprise App Store for iPhone and Android
Contact us to learn how your organization can benefit from these services.